Ever since the ATM tunnelling principals have found industrial acceptance, in particular for unconsolidated/fractured ground conditions, also self-drilling anchors have become an irreplaceable product.
The traditional deep excavation retaining method can not meet the requirement of the stabilization of large-scale underground buildings. Especially in sandy cobble stratum where the ratio of finishing gas hole is very low, it must lead to high pressure for the grouting and anchoring later and increase the construction cost.
The Metis self-drilling anchors are part of the excavation process and serve as primary soil/rock support for:
• Radial consolidation of the tunnel circumference supports the rock, forming a load bearing ring thus enabling the rock supporting itself (together with shotcreate and other facing elements).
• Umbrellas and Fore poling as pre-support in poor rock formation, shallow overburden and critical stress conditions.
• Face stabilization to sustain rock pressure for excavation with large cross sections.
• Root piles to divert stress.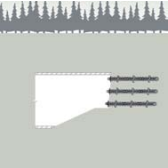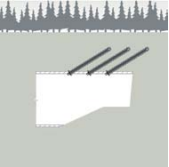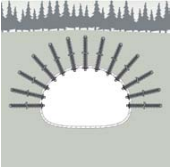 The conventional method of installation involves drilling the self-drilling anchor with water flush to the design layout and depth and in a second phase, independent of drilling, a grout adapter is added and a dense cement based gourt mix is injected through the hollow core to exit through the flush holes at the drill bit filling the borehole annulus until the grout mix appears at the borehole mouth, once cured, enabling the transfer of stress from the rock/soil formation.